To add a new teacher into the system follow the steps below.
Open settings and click on "Add teachers"

On the new form key in the teacher's details and click "Add teacher" to save the details.

Now to view the teacher that has been created, open settings and click on "View teachers"

A list of teachers recorded in the system will be displayed as shown.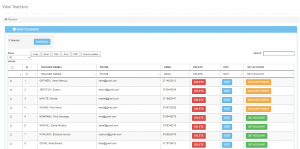 To find a specific teacher, type the name of the teacher in the search bar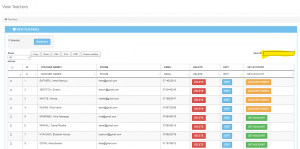 Once you have located the teacher, you can click on the "Edit" button to edit the teacher's details.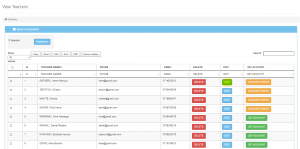 You can edit the details such as names or email address of the teacher then click" Update"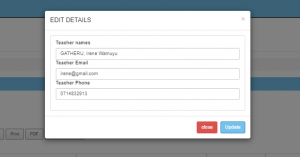 You can also print the details or save them as a pdf file.
One can also set an account for the teachers by clicking on the create account button and setting up the password for the teachers.
To delete a teacher one must ensure that the teacher is not linked to any class.(This can be achieved under Timetable->Settings->Unlink Teacher.