To add any adjustments that will be reflected on the invoice.
These are things that are not represented in the fee structure.follow the steps below.
Click on "Settings" then click on "adjustment settings"

On the new form opened enter the adjustment things like admission fee, uniforms etc and click on "Submit"

To view the adjustments recorded, click on the "Edit/view" button to open the view form as shown below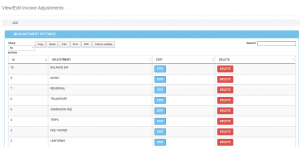 Once the form is opened, you can edit the adjustments by clicking on "Edit", the edit window will open, once you are done editing click on "Update" to save the adjustment made.