Click "expenditure" then "Vendors"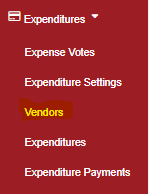 Here we add the vendors or suppliers that the school has.
Go to expenditures, Vendors: Click on the add button.
Enter the supplier's details i.e. Name, Company, Phone Number, Email, etc.
Click save when done.
This information can be changed or the status of the supplier changed from active to inactive by clicking the edit button. We add suppliers in order to record their invoices or payments made towards their invoices.